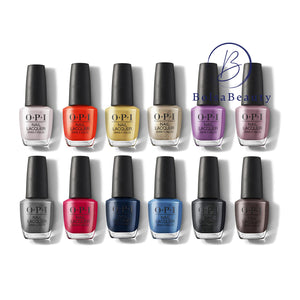 OPI - Nail Lacquer Fall 2022 - Fall Wonders (Set 1 or 2)
Introducing a down to earth palette that will bring you a sense of balance. Inspired by the calming and colorful nature of natural wonders around the world, we'll ground consumers and pros in our shades so they can experience the healing power of both nature and color.

SET 1:
Peace of mined (an earthy creamy mauve) #F001
Claydreaming (neutral creamy brown-purple) #F002
Medi-take it all in (a balancing creamy purple) #F003
Brown to earth (a creamy dark brown) #F004
Ochre the moon (a warm creamy yellow) #F005
Rust & relaxation (warm creamy rust orange) #F006
SET 2:
Red-veal your truth (a warm creamy red) #F007
Suzi takes a sound bath (a down to earth blue shimmer) #F008
Midnight mantra (a dark navy blue)#F009
I mica be dream (A shimmering metallic gold) #F010
Clean slate (dark metallic grey) #F011
Cave the way (a black pearl) #F012
All whole set products will come with free color sample charts (if these sets have samples). 
---
We Also Recommend