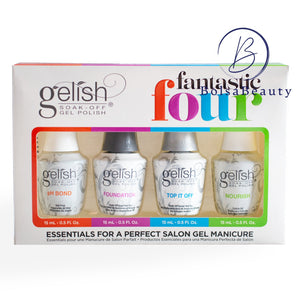 Gelish - Fantastic Four Soak Off Gel Polish (Full Set)
Gelish Fantastic Four Essentials Collection Soak Off Gel Nail Polish Kit
- Foundation
- Top It Off
- PH Bond
- Nourish
15ml Each
GELISH pH BOND
Gelish pH Bond removes surface oils and an acidic pH cause bonding problems, leading to uneven color that easily chips or scratches. pH Bond Nail Prep removes excess oil and balances your nails' pH to ensure even coverage
GELISH FOUNDATION
Gelish Foundation creates the adhesion bond between the nail plate and gel products without damaging the nail plate. LED Cured. This gel provides an adhesive base layer that helps your new color stick and stay on your nails without damaging the nail plate.
GELISH TOP IT OFF
Gelish Top It Off seals your Gelish Soak-off nail polish with a high shine finish that will not dull, chip or peel. This gel provides a protective top layer that's easily polished to a high shine finish, highlighting your new gel color with a fantastic finish.
GELISH NOURISH
Gelish Nourish rehydrates and restores essential oils in cuticles and skin surrounding the nail with a unique blend of Grapeseed Oil, Kukui Nut Oil, Sesame & Vitamin E. Gelish Nourish should be used as a daily re-hydrant.
All whole set products will come with free color sample charts (if these sets have samples). 
---
We Also Recommend